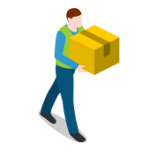 BENEFITS
Work with and learn about all types of technology equipment such as computers, parts, networking, and home electronics.
Easy going atmosphere.
PRIMARY RESPONSIBILITIES
Sort and organize a wide variety of technical equipment that includes: commercial computer systems, voice & data handling systems, enterprise networking equipment, general home & office equipment, consumer & vintage electronics, cables & other tech related materials.
Stage finished product for loading
Load / Unload materials from truck
Test, sort, dismantle, and process inventory
Maintain housekeeping of warehouse and surrounding area
Adhere to all company policies and procedures
Other general warehouse duties as assigned
KNOWLEDGE AND SKILL REQUIREMENTS
IT or any other technical experience is not required but is a plus. You will learn about and handle a wide variety of tech equipment.
Basic reading, writing, and arithmetic skills required. This is normally acquired through a high school diploma or equivalent.
Manual dexterity required for operating machinery.
Ability to lift up to 75 pounds required.
Clean Background check.
Willingness for background check and drug screening.
WORKING CONDITIONS
Working conditions are normal for a manufacturing environment. Work involves frequent lifting of materials and product up to 75 pounds. Machinery operation requires the use of safety equipment to include but not limited to; eye safety glasses, hearing protectors, work boots, and hardhats.
No Phone Calls
Walk in Applications Accepted
Job Code:
99
Closing On: Closing On:
Thursday, 20th July 2023
Department:
Warehouse
Shift:
Monday-Friday 9 a.m.-5 p.m.
Location:
Columbus, Ohio
West Columbus
3854 Fisher Rd
Job Type:
Full Time
Education:
High School
Pay Rate:
$12-$16 hr