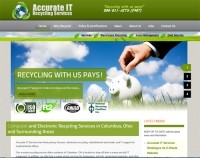 In an effort to provide a more user-friendly website, Accurate IT Services has redesigned its electronics recycling website, www.ait-recycle.com.
Not only does Accurate IT Services pride itself on our environmentally-friendly and socially-conscious recycling services throughout Central Ohio, but it works tirelessly on providing an educational experience for electronics recycling, complete with the ease of establishing recycling pickups and contacting AITS employees with any questions.
The new website features an educational section called "Why Recycle Electronics?" which focuses on the importance of recycling old electronics or "e-waste."
It also promotes Accurate IT Services' certifications in ISO 14001 and the R2 (Responsible Recycling) Standard. Accurate IT Services' R2 certification is representative of our constant efforts to ensure that your equipment is responsibly and securely recycled, using authorized vendors, safe working practices, and secure data destruction. Being one of only a few R2-Certified companies in Columbus, OH, Accurate IT works to provide customers with the guarantee that their equipment is handled appropriately.