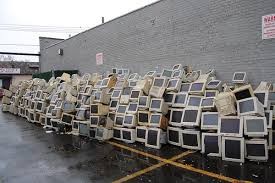 By Bobby Elliott, E-Scrap News
Jan. 29, 2015
The trustee appointed to handle the liquidation of Creative Recycling Systems told E-Scrap News the company's collapse came down to one thing: CRT glass.
In an interview, Jerry McHale, trustee for the Florida-based processor currently ensnared in a multi-million dollar legal battle with Regions Bank, said Creative failed to devise a reasonable strategy to handle the significant loads of glass that came in company doors.
"Going back in history, to me, it looks like there was no strategic plan as to how they were going to solve their glass problem," McHale said. "Something should have occurred far earlier to take care of it or to adjust their pricing to reflect the fact that they were going to have to pay 15 or 20 cents a pound to get rid of that glass."
According to McHale, the company has roughly 30 million pounds of CRT material sitting in warehouses throughout the East Coast. It is also being sued for nearly $19 million by Regions Bank.
After failing to find a buyer for the once-promising company, and its extensive stockpile of CRT glass, Creative filed papers with a Florida court in mid-December to voluntarily liquidate its remaining assets and resolve its debts as part of the Regions case.
"Virtually all of the prospective buyers I talked with were really just interested in the potential acquisition of the assets," McHale explained. "If they acquired the company, they were also acquiring the glass and no one, I assure you, no one was interested in that glass."
McHale said the company, which has managed to sell some of its processing equipment, has few remaining assets to convert into capital. No employees remain with Creative.
As for who's going to be in charge of one day recycling the glass, McHale pointed to an abandonment order, approved by the court on Nov. 20, transferring ownership of all assets, including glass, to Regions and landlords of former Creative properties.
"This could be a Gordian knot," McHale said.