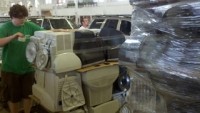 On Thursday, May 24th, Accurate IT Services worked with Darke County's Solid Waste District in Greenville, Ohio to collect electronics from the community for recycling.
Krista Fourman, organizer and Recycling Coordinator for Darke County, selected Accurate IT Services from a large pool of bidders, stating that she was looking for an Ohio company that held the R2 Certification.
With hundreds of people flowing through the Darke County Fairgrounds all day Thursday, Accurate IT Services worked with volunteers to unload vehicles and load trucks for shipping back to Accurate IT's Columbus Ohio facility. Although the materials are still being processed, it is estimated that the goal of 70,000 lbs. will be reached if not exceeded.