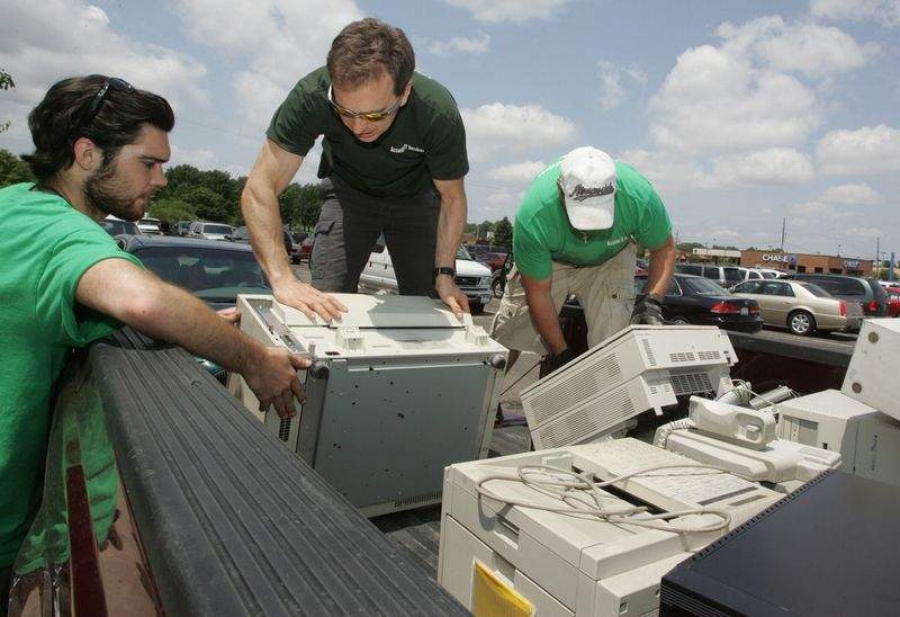 MARION – Organizers of the first Marion County recycling collection to allow televisions didn't know what to expect before Saturday.
They quickly discovered it would be a success when they saw a line of vehicles waiting an hour before they opened in front of Buffalo Wild Wings and didn't see the line slow down throughout the afternoon.
Marion County Recycling and Litter Prevention partnered with the city and Accurate IT Recycling Services of Columbus to collect all types of electronics including computers and televisions. MCRLP Director Angie Carbetta said it was the first time a collection in the county accepted televisions, widely not accepted because they are a hazard and expensive to process.
"We can get all these TVs and keep them out of landfills," she said.
The collection was successful enough that the company loaded up its truck about halfway through and had to store the overage at a nearby Mallard Square shopping center warehouse.
The collection generated 19,480 pounds of waste. That included 63 televisions dropped off and 27 televisions picked up from senior citizens from Modern Delivery, funded by an Ohio Council on Aging grant. There was not an individual county for computers.
Carbetta said 206 vehicles came through. Participants received food coupons from Buffalo Wild Wings and Perkins and a chance to enter a drawing for a flat-screen television from Servex Electronics.
"This has exceeded my expectations," Mayor Scott Schertzer said. While he was hopeful they would fill one, he expected by the end the company would have enough items to fill two trucks.
"I'm amazed at the turnout we had," he said. "There's a definite need."
While Sims Bros. recycling center accepts computers, Carbetta said the closest place to drop off televisions is Mid-Ohio Recycling in Mount Gilead.
Jerry Mejeur, who dropped off an old console television that he had picked up at an auction, was among those thankful to get rid of items without making the trip out of town.
"I think it's wonderful," he said. "It's not going to go to a landfill."
While he waited with the TV his wife waited in another car with two computers.
All items except televisions were accepted for free while there was a $15 recycling fee for televisions.
Michael Yankelevich, owner of Accurate IT Services, said the products would be stripped down for parts. Components such as circuit boards, copper, aluminum and plastic will be re-used while CRT tubes from the televisions will be melted down.
Some of the computer components may be re-used, including items that may be refurbished and sent to third-world countries.
"We will recycle what can be recycled," Yankelevich said.
He said increasing commodity prices are making such a business more profitable while Americans' awareness of the importance of recycling is also improving.
Carbetta said the televisions are hazardous to landfills because they contain hazardous elements such as cadmium and mercury. By partnering with Accurate IT the products get reused and recognized for the valuable materials that they contain.
She said she also wanted to increase awareness of just how many discarded appliances and computers are sitting around in homes throughout the area and impress upon people that there are valuable materials that can be reused out of these items, rather than burying them in a landfill.
"Why bury gold?" she asked. "They are extracting valuable stuff."
Schertzer said he is hopeful a similar collection effort can be held towards the end of the summer.
Reporter Kurt Moore: 740-375-5151 or [email protected]