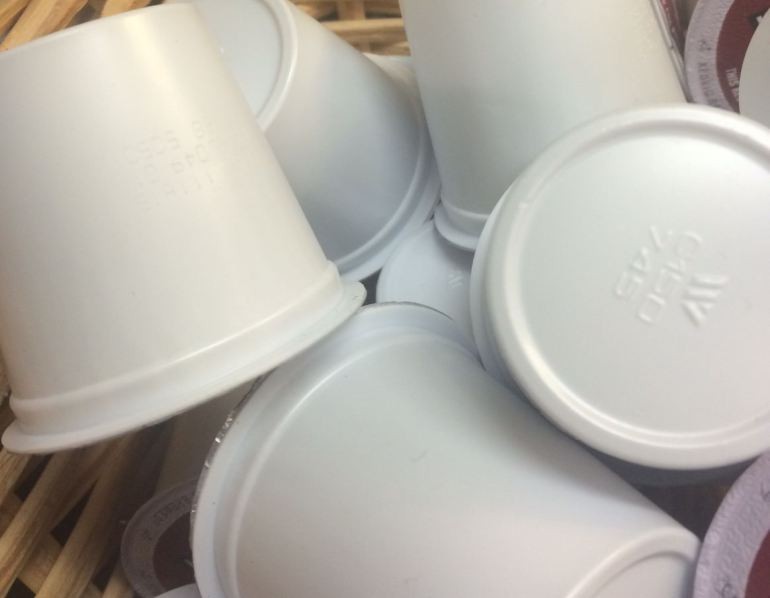 As an electronics recycler, we see our fair share of plastics that need to be recycled, like computer cases and household appliances. One type of plastic that many people use is the Keurig K-cups and unfortunately they are not readily recyclable. It says on their website that they aren't and that they are currently working on the problem. They expect to have a solution by 2020, 5 years from now. Most people find this answer to be unacceptable, including the creator of the design, John Sylvan. He has approached the company several times with solutions to this problem and his ideas have been rejected. He actually regrets coming up with one of the most popular coffee brewing designs because of the impact on the environment.
According to several sources, many companies that have tried to fix the problem on their own are actually being sued by Keurig Green Mountain. One company has actually created a plastic clip for the single serve brewer that allows for outside single serve cups; ones that are recyclable. According to this company, the impact of the non recyclable K-cups in nearly unfathomable. "Lined up, end to end, the 9.8 billion 2-inch pods sold by Keurig in 2014 alone would encircle the equator 12.4 times, according to Murray Carpenter, author of Caffeinated: How Our Daily Habit Helps, Hurts, and Hooks Us. The estimated 35.6 billion pods sold by Keurig since 2007 (Green Mountain Coffee purchased coffee-maker Keurig in 2006) would encircle the globe more than 45 times."
Those numbers are quite shocking, especially for such a short timeline, and are only expected to increase. Most homes and offices have this type of appliance and every single day these cups are ending up in the trash. While Keurig is looking into a compostable option for its cups, most cities lack the infrastructure in their municipalities to make a big difference. They also have the brew your own style cup where you can fill it with whatever coffee or tea grounds you like. The problem is, most people still buy the K-cups because they can just throw them away when they are done instead of washing out the custom brew container. Many third party companies are now spreading the word on the environmental impact in an effort to help the environment and are doing what they can to come up with solutions.